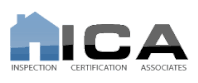 SERVICES
Trusted and ICA Certified Home Inspections
As professional home inspectors, we strive to properly service our clients. We are certified experts and exceed requirements in identifing a home or building's condition and safety.
Certified Expert with (ICA) Inspection Certication Associates #15337
Carry Professional General Liability insurance
Member with (ASHI) American Society of Home Inspectors
Moisture Detection, Well Inspections, Drinking Water Testing
Radon Testing, Mold Detection, Well Recovery Testing, Walking on Roofs
FLIR Thermal Heat Imaging Sampling
Background Verified Inspector
Home Inspections' in-depth process includes a comprehensive visual examination of the property's physical structure and mechanical systems. It covers all the main areas of concern, from basement to rooftop, and our inspections and reports surpass the scope of practice requirements. Our inspection report is a detailed report complete with photos on the property - not just a checklist, and include conclusions and recommendations based on our inspections. We also include supplementary material to help illustrate why a problem is a problem or how to prevent a problem.
A thorough home inspection performed by a professional is designed to provide you with important information to help you make an informed decision about your potential purchase. A home inspection is a limited visual inspection of the exterior, structure, roof, garage, attic, basement / crawlspace, plumbing, electric. heating & A/C and interior rooms of a home. It will include an evaluation of the installed & readily accessible components of the home. You will be able to walk away from the inspection knowing, in a clear way, what the immediate and major issues are (if any), and what items will need repair and / or maintenance in the near future.
A great and thorough inspection. Very professional accommodating and a terrific report.
Jed Van Sciver 5.0
We were very happy with the services provided by Lewis Home Inspection. Daniel was extremely professional, thorough and he did a wonderful job with the inspection. I would highly recommend his services to anyone!
Contact us today for a quote for your Home or Commercial Inspection & Radon Testing which is a 72 hr test with a separate report. LHI also offers FLIR Thermal Imaging included, Well Inspections, Well Recovery Testing, Drinking Water Testing, Mold Detection, Moisture Detection, Walking on Roofs & Home Fixing Services.